It's all about Frida!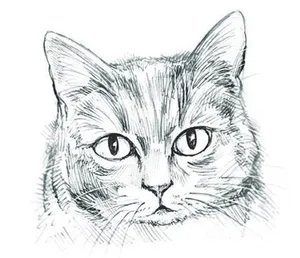 Frida was our beloved clinic cat from 2008 to 2015, when she passed away unexpectedly.
Hi, my name is Frida. If you have been to the Lake Mills Veterinary Clinic anytime since 2008, you likely know me well. I shoulder a great many responsibilities. I am the Good Will Ambassador, the Grief Counselor, the Dog Trainer, In Charge of Human Relations, and, of course, Security. If you lay a bag on my counter that could contain goldfish snacks, I will climb in and find them.

Though my life here is rigorous, and you may occasionally find me resting, it is a far cry from where I started.

I don't have much memory of the early part of my life, because of injuries I sustained when I was attacked by a dog and then hit by a car as I was escaping. I was about a year old. It was a cold, rainy day, and as I lay paralyzed on the roadside, I saw another car coming - a big car with some stripes and a star on the side. I mustered enough strength to lift my head to get a better look as the car went slowly past, and then I blacked out.

The staff at the Lake Mills Veterinary Clinic, and my Good Samaritan, Police Chief Bob Delaney, filled in the rest of the story for me.

Chief Delaney glanced in his rearview mirror, slowing as he planned to remove the "roadkill" - and Frida lifted her head! Screeching to a halt, he lifted her gently into his car and raced her ambulance-style to the Lake Mills Veterinary Clinic. Dashing in the door, he could feel that she was very cold, and she was not moving. He handed her over the counter, saying "see what you can do for her". Over the next few weeks, he stopped by regularly to check on her.

Dr. Clark picked up the story from here. Frida warmed up and began responding to medications and supportive care. Her appetite was great (some things never change), but she still couldn't walk. Her injuries were consistent with a dog attack and/or being hit by a car.

Initially, the staff expected to only have her a week (long enough for presumed owners to claim her) and then have to put her to sleep because of the extent of her injuries. But she seemed to be improving every day, so they began daily physical therapy to restore her range of motion.

A technician decided to see how Frida's strength was improving, so she took her outside on a beautiful, sunny day and set her on the grass. Frida stood for the first time!

No one claimed her, and Chief Delaney couldn't adopt her, so the clinic staff happily decided to keep her. She was named Frida, after the artist Frida Kahlo. Her personality has developed as her injuries healed over time, and she talked and cuddled her way into our hearts.

Frida is the inspiration for our "It's all about Frida" campaign, begun in 2012 to improve the lives of cats in our community. In addition to approving the cat-friendly changes at our clinic, Frida is also the spokescat for the Frida Fund for Underserved Pets, to help provide life-saving medicine for animals whose families cannot afford care.