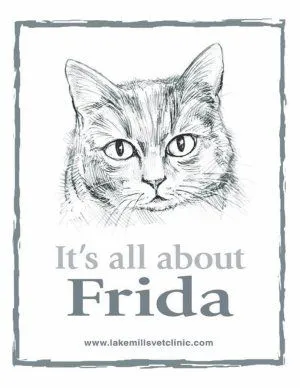 Since Frida joined our staff in 2008, the Lake Mills Veterinary Clinic has been working to create a truly cat-friendly approach to medicine. Sadly, Frida passed away unexpectedly in November 2015.
We have implemented behavioral and medical recommendations from a variety of organizations devoted to cat care.
Those of you who knew Frida may notice that she has an annoyed look on her face in this picture. That's because, nationwide, cat health and behavioral care lags far behind that of dogs, even though more Americans live with cats.
We'd like to help change that, by making sure that cats and their people receive exceptional care and attention to your questions and concerns. Our web site will be growing during the year to help provide cat owners with resources you need to help your cat stay healthy and happy.
Is your cat getting good preventive care? Click here to read our wellness plan for cat health.
Are you having some behavior problems with your cat? We have a cat behavior and training section. Training, you say? Absolutely. Frida helped teach our Family Dog Manners class by showing new students how we train cats using the same techniques that apply to dogs.
Frida was also an ambassador for the Frida Fund for Underserved Pets, to help provide life-saving critical care for pets whose owners cannot afford to pay.
Artwork for "It's all about Frida" was created by local artist, Glenn Fuller, Lake Mills.